What organizations need to know for a successful digital transformation
August 10, 2021 4:48 pm | by Jyotsana | Posted in Tech
Nothing accelerated the wave of digital transformation like the COVID-crises. It will be wrong if we do not credit the pandemic for pushing organizations to take a digital quantum leap at the organizational and industry levels. However, digitalization is easier said than done, with as low as 30% of total transformations meeting or exceeding the targets, as outlined by a BCG report.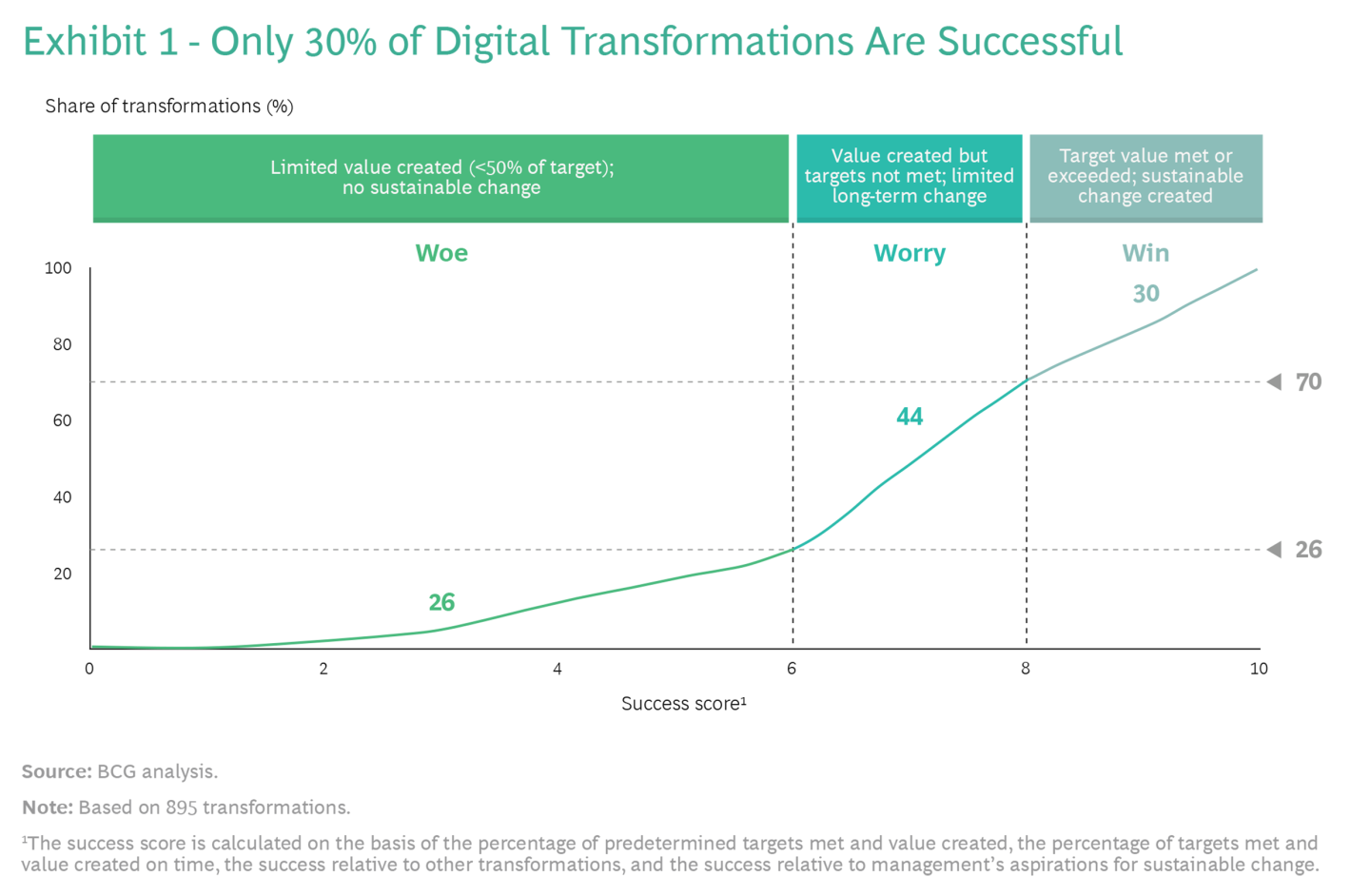 Source: BCG
The need for making business processes digital to become sustainable has forced leaders to seek guidance from digital transformation experts. Here are five key points that leaders should keep in mind while introducing digital change efforts to flip the odds in their favour.
Bringing digital-savvy leaders:

Only 9% of interviewees felt that their company leadership possesses the skills or exhibited behaviors to lead the digital age

, said a study by

MIT Sloan

. Any type of transformation – organizational, cultural, digital – is bound to fail without active participation from the leaders. Many times, the leaders are not familiar with digital technologies to lead digital transformation. In such cases, adding new digital-savvy leaders to the management team is the solution. Also, many organizations benefit from hiring leaders who are dedicated full-time to bring the change.
Get the right people onboard:

Industry reports suggest that organizations that invest in training resources or recruiting new digital talent are more than three times likely to achieve transformation success. They can ensure that by following the two-step approach: engaging integrators and technology-innovation managers & redefining roles and responsibilities.
Integrators are responsible for translating and introducing the latest digital processes and methodologies into the existing system. The technology-innovation managers have specialized technical skills and therefore are well-equipped to head the company's digital innovations. On the other hand, redefining the roles and responsibilities of current employees is a must for the transformation goals to sync with the organizational goals.
Bend a bit, accept the change:

Cultural and behavioral changes are necessary for successful digital transformation. Organizations that adopt modern ways of working, such as promoting an open work culture or introducing continuous learning and development policy, etc., have more chances of smoothly sailing through their digital change efforts. Also, empowering employees by letting them share opinions where they feel digitization will support business helps in the long run. It makes them more receptive and open towards change as they feel to be a part of the process.
Be lazy and automate, use tools that can help you:

One of the key outcomes of digital transformation is increased employee efficiency and productivity due to the shift from manual to automation processes in core business areas. However, it is not possible without the organization actively adopting or upgrading tools and technologies used by colleagues in their day-to-day work. Modern tools enable teams to analyze complex information and make necessary decisions, kill information silos by making data more accessible, allow rapid prototyping and testing with customers, build a network of cross-functional teams with individual accountability, and countless similar benefits.

No more hidden agenda, learn to communicate:

Communication is critical during every stage of digital transformation. A crucial task in this step is communicating the change story –

why are we adopting digital transformation, the benefits we expect to achieve, and where we plan to reach

. Also, frequent communication from the leadership at every level creates a sense of urgency within teams to implement transformation within their units.
In addition to the above points, organizations can take other steps like:
Defining crisp workforce strategies to determine the resources they currently have and will need in the future to meet the goals.

Creating new or modifying current SOPs (standard operating procedures) to include

modern digital technologies

.

Engaging leaders to encourage employees to challenge old processes and procedures.

Team leads motivating employees to experiment with new ideas.
Conclusion
Successful digital transformation is the need of the hour. With companies adopting hybrid and, in few cases, complete remote working policies, digitalization helps in juicing awesome results from virtual and distributed teams.
Written by Jyotsana
Manager, Client Solutions
Jyotsana has a wide experience in customer relations in the software industry. She completed her MSc in Business Administration from the University of Amsterdam in year 2018. When not being a super awesome manager, Jyotsana likes to mentor hearing and/or vocally impaired children in a public school in the city. She believes in being kind. Her forever-passion: #saveearth