10 Reasons Why SaaS Ecommerce Platform is Right for Your Business
March 11, 2019 9:19 am | by Jyotsana | Posted in eCommerce
Nowadays, SaaS Ecommerce platforms have become super popular and have increased usage. Yet, we get a lot of queries on why an enterprise should shift to SaaS Ecommerce platform over the self-hosted website.
"Seamless User Experience across the entire site, with Smooth Control & Cost-effectiveness."
All we have in the answer is a long list of benefits that you'll get through these platforms at effective cost and amazing speed. It all started way-back in 2010, and now, every large organization is running on SaaS Ecommerce platforms for countless benefits.
These platforms are agile, technically adept, and possess excellent infrastructure.
What types of enterprises can be benefitted by Ecommerce platform?
If your enterprise is comfortable managing the hassles of a self-hosted website, then you are undermining the benefits of SaaS Ecommerce Platforms. Irrespective of its level of operations, your business will need speed, great customer interaction, security, and best practices to follow.
Be it for an organization with many roles at one go, like a retailer, distributor, wholesaler, multichannel features, many employees, global presence, and multimillion-dollar build. Or maybe a startup business that needs the right takeoff.
The enterprises that can benefit from Ecommerce platforms are as follows:
If you are looking for Rich features:
These have developed into excellent feature-rich platforms, with scalability and customizability that you cannot imagine. SaaS Ecommerce Platforms are perfect for those who are tired of hosting, managing and downtime with a limited feature list.
Of course, costing and ongoing maintenance are minimal for an n-tier infra. Features like Product management's tools, Accounting, CRM, Inventory, Procurement, Distribution, Fulfillment and more are just the same as self-hosted sites with much more smaller branches of these feature for better working.
If Automation and Easy integration is your thing:
With these platforms, every data can be manipulated automatically. In no time, you can automatically get the product, customer, and order data.
You can integrate SaaS Ecommerce Platform with your existing ERP and PIM software to make your cart management faster and more effective.
If you are looking for economic solutions and great utility:
You can connect these platforms with your back-office systems and keep your shopping cart simpler. Some people who favor self-hosted platforms or on-premise structures claim that SaaS management tools are simpler and internal mechanism is impossible to understand.
We have a solution for them – test it once, and you will find it much easier than your existing websites. Moreover, SaaS Ecommerce Platforms are cost-effective and offer great utility.
If you're into modern designs and smooth UI:
For an e-commerce store, the user-interface design is crucial for positive customer interaction. Ideally, in today's time, the design has a lifespan of a maximum of 8-9 months.
With SaaS Ecommerce Platforms, you get unlimited templates to choose from, and it's effortless to switch from one template to another.
You can either reset all the data or shift from one design to another. An amiable user Experience is sole-mindedly targeted while designing the templates.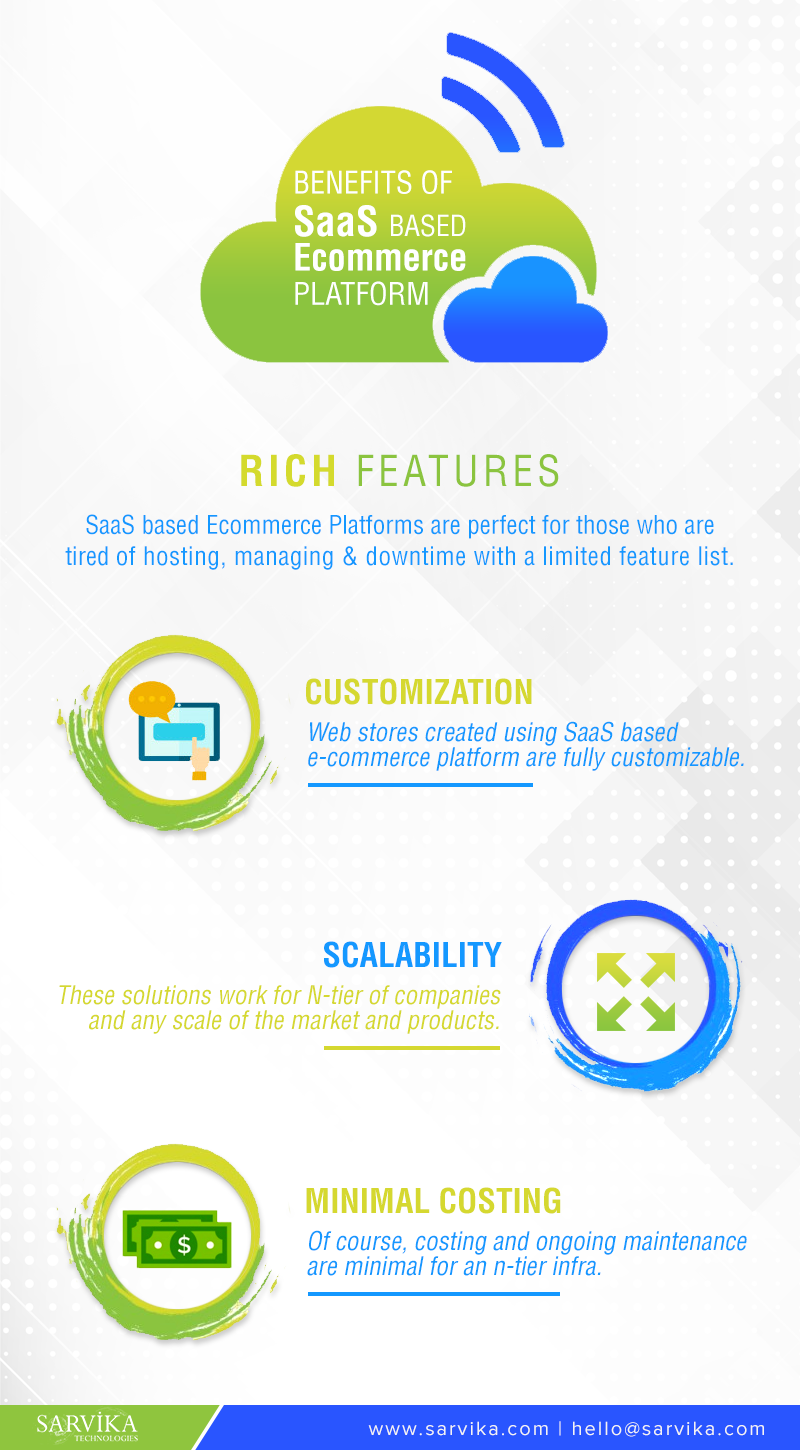 If you need more security features and managed Uptime:
One rarely hears of SaaS Ecommerce Platforms going down. These platforms are managed by professionals who are constantly working for your support and maintenance.
They ensure quality management and a secured system. While most of the systems have their own downtime records, SaaS Platforms have a record of .01% downtime only.
The latest technologies are added timely to ensure riskless work and patches to keep your data secure from any external vulnerabilities or service mitigation.
And what's special? Every update and security patching happens in the background so that your business does not lose time or money.
When PCI compliance is need of the hour:
Handling card/bank details are very important in the eCommerce business, and here, PCI compliance is handled by the SaaS provider.
Most retailers fear handling these by themselves and charge additional for providing such services. It's time to get rid of them!
If your organization is adhering to best practices, always:
If you are running an e-commerce store, best practices include good checkout experience and streamlined processes.
While you can change the skin of your store, internalities should be set frictionless. There are no development charges repeatedly when you just want to change the look of your store.
If you're scaling upside and you want dynamic performance of your stores with no extra cost:
SaaS Ecommerce Platform has the capability of handling high-peak traffic with smoothness at no extra cost while your self-hosted web needs upgradations and if not done, a big downtime.
You won't want your store to be stuck during the holidays when people want to shop for your products.
If you need the support of professional staff:
SaaS Ecommerce Platforms have the biggest benefit in the form of staff that maintains and runs your system. You don't need to hire people to do system maintenance work.
Offshore facilities are readily available at pocket-friendly pricing to update, secure, maintain, and run your e-commerce store.
If you want a quick launch:
If you choose a website, you will need months to plan and execute before launching. Also, launching it will not be easy.
But with SaaS Ecommerce Platform, you can plan and launch in weeks as compared to months that can be taken for planning a website, uploading content and products, and launching it.
You only need to worry about branding because all your technical needs will be well taken care of.
Written by Jyotsana
Manager, Client Solutions
Jyotsana has a wide experience in customer relations in the software industry. She completed her MSc in Business Administration from the University of Amsterdam in year 2018. When not being a super awesome manager, Jyotsana likes to mentor hearing and/or vocally impaired children in a public school in the city. She believes in being kind. Her forever-passion: #saveearth