Leaders that are breaking stereotypes and leaving an impact | #WomenInPower
March 6, 2020 8:25 am | by Jyotsana | Posted in Post
The one thing that came to my mind when I was asked to author an article for women in the IT industry was: what exactly is the ratio of women to men in the Indian IT space? The answer was disappointing yet surprising.
Disappointing because it stood at just 35% and surprising because this number is way ahead than the US (20%) and the UK (17%). It dawned upon me that gender disparity is quite evident in everyday life. Think about it the next time you visit a restaurant and analyse the number of female servers or chefs, or ask your corporate friends about the number of women in their board.
But even in this era of high gender disparity, there are some powerful women rocking the IT industry with their strong knowledge, field experience, and love for technology. On this Women's Day, we're saluting the leadership spirit of seven women entrepreneurs who've left a deep impact on the IT industry with their sharp business acumen.
Roshni Nadar
CEO, HCL Enterprises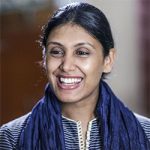 Roshni Nadar is the CEO of HCL Corporation and Vice-Chairperson of HCL Technologies. This debonair woman is responsible for all strategic decisions at this $8.9 billion company and has been ranked 54th in the Forbes 2019 world's 100 most powerful women list. Roshni completed her high school from Delhi and later went to complete her graduation from the North-western University. In addition to her daily work at the conglomerate, Roshni devotes her maximum efforts to the company's CSR activities like serving as the Trustee to Shiv Nadar Foundation, Chairperson of VidyaGyan, and Founder of The Habitats Trust.
Reema Poddar
CPO, Teradata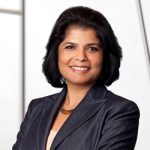 Teradata is a global leader in providing data and analytics solutions, pervasive data intelligence, and cloud management to the market. Reema Poddar is the Chief Product Officer of this data giant, where it is her job to ensure that the services offered by Teradata match their value and help customers with the complexity of data analytics. Empowered with 23+ years of experience in the software development industry, Reema is known for bringing innovation and delivering digital transformation through her expertise in cloud computing, big data analytics, and industrial internet of things.
Shraddha Sharma
CEO, YourStory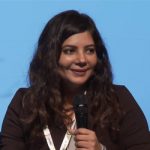 Online portal YourStory is often dubbed as the biggest storyteller in the Indian digital space. Entrepreneurship stories, funding analysis, and updates, information on emerging trends at the national and international levels are some areas of expertise of this team And leading this bunch of talented individuals is Shraddha Sharma. Before starting her journey as an entrepreneur, Shraddha worked as an assistant vice-president at CNBC TV-18. She also has been awarded the Femina Award for online influence and has made her way in LinkedIn's global influencer list of 2015. 
Dr. Rohini Srivathsa
National Technology Officer and Strategy Lead, Microsoft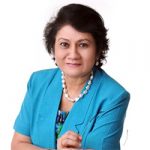 Dr. Srivastha started her career with AT&T Bell Laboratories in the year 1995 and after 25 years, she is today the National Technology Officer of Microsoft in India. She is responsible for driving game-changing Microsoft AI solutions in different Indian industries like healthcare, agriculture, hospitality, financial services, management, and more. The Analytics India Magazine included Roshni's name in the ten most influential analytics leaders in India of 2019. Her expertise and exceptional knowledge on topics like machine learning, artificial intelligence, and emerging technologies have earned Rohini a huge reputation as a thought leader.
Aruna Jayanthi
MD, Capgemini (Asia Pacific and Latin America Business Unit)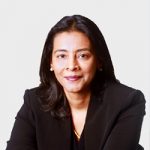 Leading a team of almost 50,000+ people, Aruna Jayanthi is the ultimate managing director who has proved her mettle in governing operations across global business units. Before her stint as a global level MD, she was heading the Indian operations of Capgemini covering consulting, technology, and outsourcing business. She's widely recognized for her contribution to making Capgemini a global market leader in varied business solutions like online service models (PaaS, SaaS, etc), intelligent automation, and platforms. Aruna has often been a part of the Fortune India's most powerful women list and Business Today's most powerful women in business list.
Pooja Sareen
Co-Founder, Inc42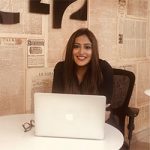 The digital space is filled with excess clutter that makes searching for credible information impossible. Pooja Sareen started Inc42 to provide people with data and facts-driven content on the Indian start-up ecosystem. The content produced by their team touches the lives of millions of members of India Inc. Pooja holds a journalism degree and is an alumna of Delhi University. Today, the team of Inc42 is 25 people strong and the venture is backed by numerous investors.
Vanitha Narayanan
Managing Director, IBM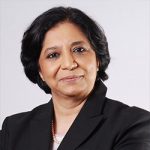 Vanitha Narayanan helms the IBM team at the global level and is considered as one of the most influential business executives. She joined IBM in the year 1987 and since then has led this world-renowned IT giant to success at local and global magnitude. Vanitha has been named by Forbes India in the most powerful women list of 2017, has been an executive council member of NASSCOM, and the Chairperson of the American Chamber of Commerce in India.
It has been proven time and again that women are the best managers and leaders, be it at home or the office. We are proud to have strong-minded women a part of Sarvika Technologies working at diverse roles: managers, business analysts, designers, developers, quality analysts, etc. 
If you too have success stories of women entrepreneurs, then we'd love to hear from you. Reach out via the comment section given below or write to us here.
Written by Jyotsana
Manager, Client Solutions
Jyotsana has a wide experience in customer relations in the software industry. She completed her MSc in Business Administration from the University of Amsterdam in year 2018. When not being a super awesome manager, Jyotsana likes to mentor hearing and/or vocally impaired children in a public school in the city. She believes in being kind. Her forever-passion: #saveearth