Product Customization: Six reasons why your online store needs a feature upgrade
April 3, 2020 2:38 pm | by Sarvika Technologies | Posted in eCommerce
I love Starbucks. It is quite interesting watching them sign your name on the takeaway mug, right? It makes one feel special, and you end up posting an Instagram story or post. Result: Starbucks won free publicity and a happy, loyal customer. Imagine this thing being repeated daily, thousand times over.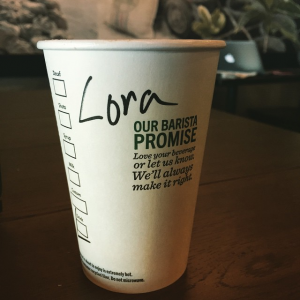 It is nothing but the art of product customization at its best.
Why only a coffee brand, there are many examples I can quote of global chains taking product customization to an all-new level. Coca-Cola's famous name your coke campaign, Nike's decision to let customers design their shoes (color, graphics, etc.), Apple giving buyers a choice to engrave their air pods with a personalized message or art.
We are surrounded by customization. And the best part is, people are not just demanding but craving for it. Many reports and surveys have suggested that people are willing to pay more for personalized products. But money, though crucial, is not the only factor why you should consider offering product customization.
Today I'll share how product customization will boost your brand's existence and why it is necessary to gain an edge in the eCommerce industry. 
You will receive first-hand experience of customer choices and preferences.
Customer data is priceless in today's time. Companies are spending millions and billions to get hold of precious industry insights to mold their strategies. With product customization, you directly receive insights into what the customer needs, what makes them buy a product, what type of design and color they prefer, etc. You can use this data to determine customers' buying patterns, behavior, and implement strategies to benefit your online business.
Your brand will stay relevant to the market.
Businesses that do not change find themselves thrown out of the race. Need an example? Nokia, at one point, was the biggest player in the consumer mobile industry. But the company neither embraced Android nor upgraded the then existing Symbian OS. Hence, Nokia lost its consumer mobile market to other competitors. N Today, all the major league brands are offering product customization options to their users. It is proof enough that customization is here to stay and will contribute a lot in shaping the future of branding.
Your customer will feel one with the product.
I will explain it in a silly yet amazingly effective way. We all loved playing The Sims. It was quite addictive when people spent hours perfecting their characters like it was oneself. What I am trying to convey is when you involve people while bringing a product to life, they'll become more attached to it.
Your stocking and warehousing expenses will go down.
With custom product design options by your side, you do not have to worry about maintaining minimum inventory levels. The reason is that you will produce only what the customer demands. As a result, you get a benefit by reducing stocking and warehousing costs.
Build a strong social media presence.
I will again quote the example of Starbucks at this point. People live for social media and they love sharing their experiences, new purchases with their friends and connection. It is easy to make people share personalized products on their public pages as compared to purchases of generic nature.
We all are into businesses to make money, and product customization will help you in boosting your sales, in fact for some businesses it has done wonders. Custom product design tools will build a loyal audience for your brand, that audience will promote the brand, and it will boost sales thereby increasing the revenue. The mantra is simple: give customers what they want, and they'll stay with you. Companies have started creating new divisions of these products and influencers have starting building new businesses around them. Its your turn!
There are several plug-ins available in the market which you can install on your eCommerce platform. But there are many aspects you need to consider before choosing one. Like is it easy to use? Is it supported by your store's platform? And more. I shall be happy to tell you more about such business divisions, new tools in the market and how you can deploy this plan to your business in the quickest manner, waiting for your likes, comments and queries.
Written by Sarvika Technologies
Sarvika Tech is a team of young, energetic, and technology-loving people on the journey to help companies achieve their goals by supporting their IT needs. In a nutshell, we are a people's company where the priority is their knowledge enhancement and career development. We believe that focusing on our most important asset, the team, will enable us to push boundaries and deliver ingenious IT solutions.