A to Z of a product recommendation engine every eCommerce owner should know.
July 10, 2020 12:53 pm | by Sarvika Technologies | Posted in eCommerce
Do you know that Amazon (worldwide) clocked-in sales worth $75.5 billion in the first quarter of the year 2020? The amount is huge. Brand name, wide reach, an awesome delivery network, millions of registered sellers, etc. are some of the many reasons why Amazon enjoys such a massive online presence. But you will be doubly surprised to know that almost 30 percent of these sales are due to product recommendations.
For those who do not know what product recommendation is and how it works, here is a brief overview. Say you wish to buy one particular book and visit the Amazon site. You find the book, open the product page, and select the add to cart option.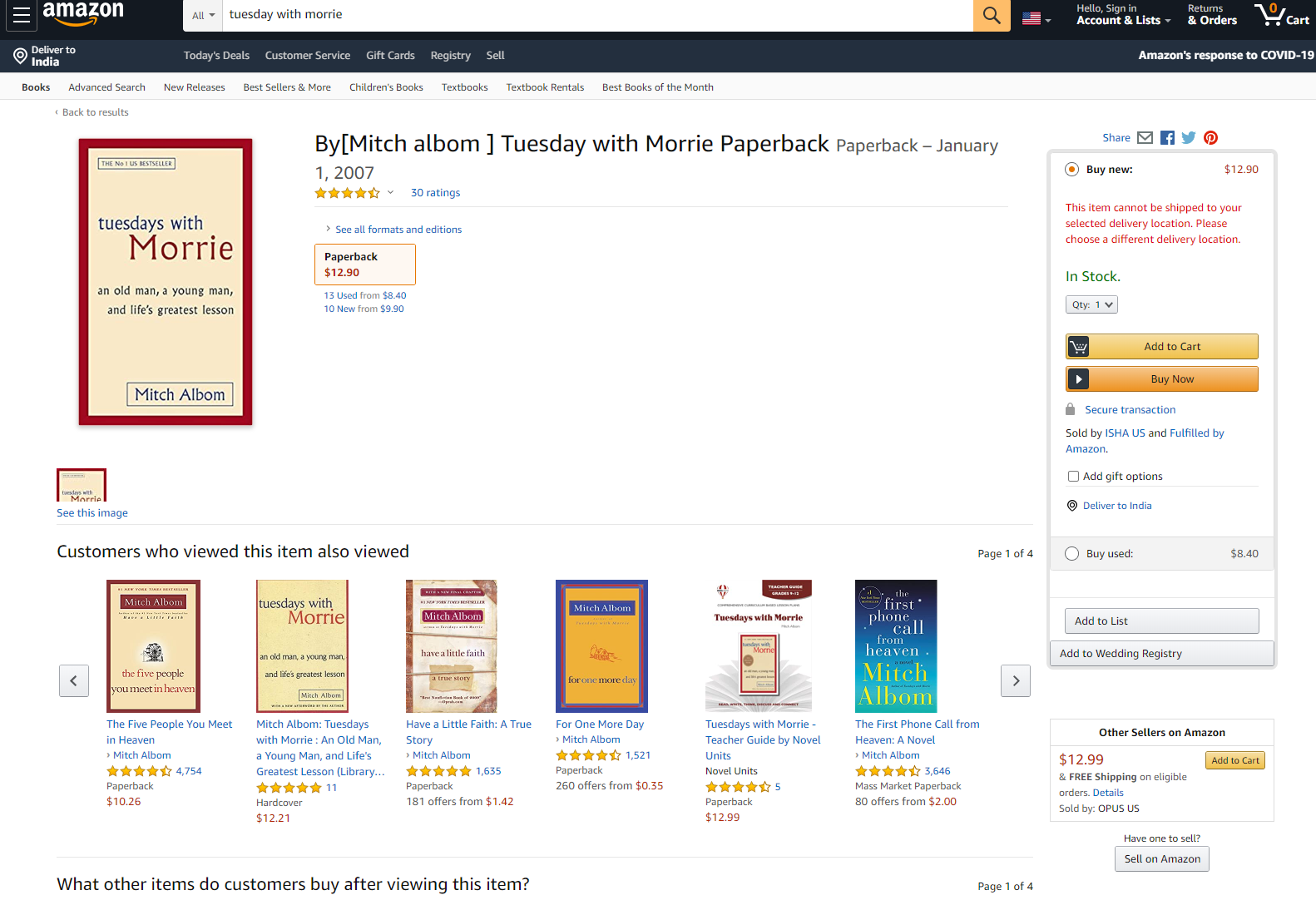 But all of a sudden you look down and see some famous titles in the same or related genre. You add a couple of more books, checkout, and order yourself a month's worth entertainment.
This, my friend, is the magic of product recommendation engine due to which you often end up buying more than what you need. It is almost like the eCommerce website knows what you want and places it right in front of you!
Product recommendation engine/software or reco-engine is a type of machine learning software that tracks and studies the visitor's behavior on the eCommerce sites. Based on the data collected, the software recommends products that the buyer is most interested in purchasing.
It is not just limited to your visit on the eCommerce websites; you are surrounded by it. You must have noticed the ad section in the email or mobile application highlighting the product you just left in the cart or showing a discount on products related to the one you just bought. Again, the product recommendation engine.
The type and accuracy of the recommendation, however, vary from one software to the other. The reason is the price, which has a direct impact on the quality and accuracy of the recommendation engine. It all depends upon how much you want to spend and the scale of your online business.
Reasons you should install a reco-engine on your eCommerce platform.
The most obvious and common answer is MORE SALES. Like the example I quoted above, recommendation motivates the buyer to add more items in their carts, thereby pushing the average order value higher. And this means more revenue.
Still, there are many other benefits of using a product recommendation software. These are:
A customer-friendly experience:

The AI assigns a unique identity to every user and identifies the type of products/services the user browsed in their previous visit. Now, whenever the user visits the online store, instead of starting from scratch, they shop in a familiar environment that highlights the same and related products/services.
Brings more traffic:

Good product recommendation software works beyond the boundaries of your online store. It drives traffic to the platform with targeted advertising at third-party-owned portals like emails, mobile applications, etc.
Keeps recommendations fresh:

No one likes being recommended a product or service which is out of stock or no longer available. A good reco-engine continuously upgrades the suggestions by chucking-out items that are not available. It helps in keeping out the negative customer experience, which can affect your eCommerce store's reputation.
Helps in decision making:

As the business grows, it becomes tough to manage campaigns, advertisements, customer inquiries, etc. A product recommendation software helps by providing accurate reports on whether the recommendations are generating convertible-traffic or not. Does the campaign require changes for better results? Information about customer behavior, etc.
These were some crucial out of many reasons you should deploy a product recommendation software. Now there are three types of product recommendation software available in the market.
Collaborative Filtering:

The best way to explain this system is through the image shared below.

Collaborative filtering works on the idea that if 1 likes a,b,c product, and 2 likes c,y,z product, then X will also like y & z whereas Y will also prefer a & b. The system prepares the list of product recommendations for each user based on the products they have recently purchased or from the other person's list who recently purchased the same products.
Content-based Filtering:

The 'similar items' list that you see while shopping online is a content-based product filtration.

The system assigns each user with keywords based on product history. Based on those keywords, the system picks the products for recommendation through the product description mentioned on the web page. The main concept behind content-based filtration is that if you have liked a product once before, then it is presumed that you will also like items that are of similar nature.
Hybrid Recommendation Systems:

A hybrid system brings the best of collaborative and content-based filtration. The system first generates recommendations individually using the collaborative and the content approach, then later combines the results based on product relevance. Experts have found that hybrid systems provide more accurate and result-yielding recommendations.
Should you get a product recommendation solution for your eCommerce store?
Why not! The recommendation system is a must for stores that are gaining momentum in online visitors and looking to expand their user base through intelligent and productive means of marketing. On the other hand, small online stores that cater to smaller audiences should do a cost-benefit analysis before implementing such a system as premium quality recommendation software are expensive.
But without any doubt, an eCommerce product recommendation system will boost your sales, drive positive customer engagement, and build customer loyalty.
Written by Sarvika Technologies
Sarvika Tech is a team of young, energetic, and technology-loving people on the journey to help companies achieve their goals by supporting their IT needs. In a nutshell, we are a people's company where the priority is their knowledge enhancement and career development. We believe that focusing on our most important asset, the team, will enable us to push boundaries and deliver ingenious IT solutions.