Saying goodbye to 2020 the Sarvika way! | #LifeAtSarvika
January 12, 2021 4:13 pm | by Sarvika Technologies | Posted in Life At Sarvika
Saying goodbye is never easy, even when one is saying that to a dreading year we never imagined like 2020. Lately, I've heard many people discuss how this year was the worst ever and should be wiped off completely from history. A bit too harsh, right?
The year 2020 was the year of many NEWs for the Sarvika Tech family.
A new way of working.

New upgrades to our tech stack.

Many new hires.

A new workspace.
We could not bid adieu to 2020 without a party. Multiple activities were scheduled on the last three days of the December month: 29th, 30th, and 31st. Keeping the pandemic in mind, we planned the activities in a way that all Sarvikans, on work from home and at the premises, could participate together.
Online Tambola | 29 Dec 2020
Tambola is considered as a social gathering game limited to family and friends. But we thought, why not give this game a try and see how the Sarvikans react. The response was AMAZING! The entire Sarvika family came together on a Google Meet link and participated with enthusiasm. The result – people laughing and bonding over a game. It also promoted cross-department communication.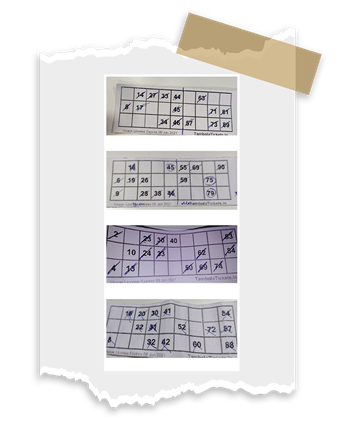 Let's Draw Competition & How much do you know about the Sarvikans? Quiz | 30 Dec 2020
I still remember the first open house we did in November 2019. There was an activity in which we gave Sarvikans sheets with outlines of festive objects to fill with colors. The response was overwhelming.
This time we decided to introduce the same activity but with an online twist. We shared five scenarios with the team and asked them to pick one scenario and draw it digitally within 5 minutes. The competition was about exploring the creative side, how imagination comes to life on a paper (in this case, screen). Of all the entries we received, one stood out and blew our minds. It was from our designer and illustrator, Mohit Bairwa. We are sharing the illustration for you to judge.
(By Mohit Bairwa)
The next activity of the day was a quiz about Sarvikans. Sarvika Tech is nothing like any other IT and software development company in the market. Here we treat everyone as part of our tight-knit group, and like every other family, we know enough about each other's personal lives. The quiz aimed at lowering professional bridges making way for Sarvikans to know one another. This online quiz gave many LOL-worthy moments and left Sarvikans smiling. Mission accomplished!
Open House | 31 Dec 2020
Owing to COVID, we were hosting the open house event after eight months. Technically, we hosted two open houses in September and October, but they happened digitally. Everyone on the floor was excited about the event and many people on WFH joined us remotely. We kickstarted the event with an online meeting with our clients in the US. It was special because we could not organize our annual meet in 2020, which provides a platform for our team to mingle with our international counterparts.
The next item on the agenda was the new joinees introduction. We took a photograph (of the best moment in life) from each, displayed it on the projector, and asked them to share the story-behind and give a small intro about themselves.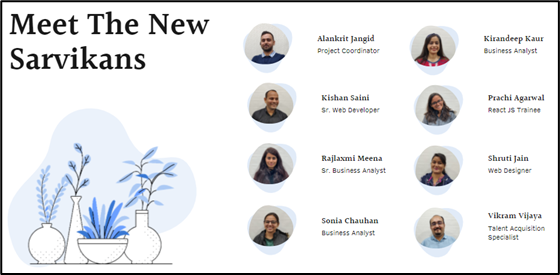 The event was carried forward by two exciting games based on Communication. I think we all can agree that miscommunication in professional and personal life creates a mess and, in some cases, havoc. Hence the importance of clear and crisp communication. The game Pictionary and Taboo focused on the written and verbal aspects of communication, respectively.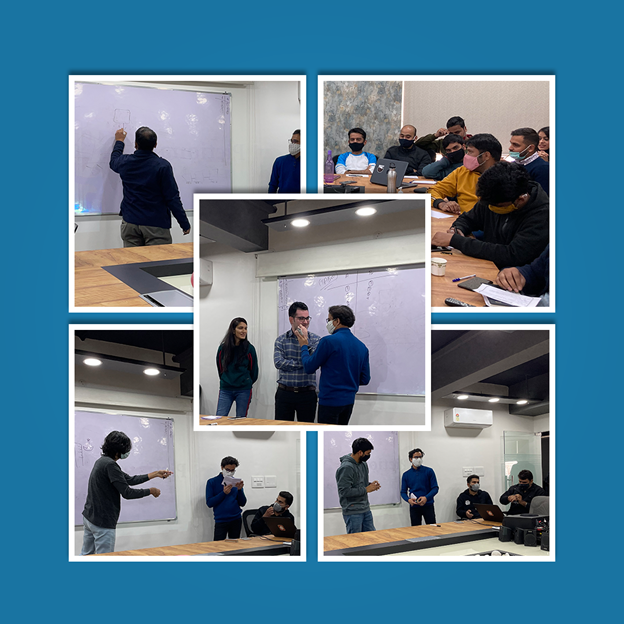 We closed the event with the Vision 2021 activity. Every year we create resolutions but are unable to maintain them. And this shatters the confidence, the ability to stay true to one's own words. The activity aimed at tackling that problem and boosting the Sarvikans' morale. We asked the team to write two goals on a piece of paper they would like to achieve in 2021: one professional and one personal. After that, everyone read out loud their goals and pinned the page on their desk. 
This is Life at Sarvika.
 Time and again we've said that one must experience Life at Sarvika at least once if you get a chance to work with us. We take pride in keeping the career development and emotional well-being of Sarvikans at top priority. If you wish to become part of our growing team, head to our careers page, and apply for the profile to which you fit the bill at jobs@sarvika.com. 
Written by Sarvika Technologies
Sarvika Tech is a team of young, energetic, and technology-loving people on the journey to help companies achieve their goals by supporting their IT needs. In a nutshell, we are a people's company where the priority is their knowledge enhancement and career development. We believe that focusing on our most important asset, the team, will enable us to push boundaries and deliver ingenious IT solutions.