Finding Passion in Pixels: Anmol Sharma – #PeopleOfSarvika
August 22, 2023 7:13 am | by Sarvika Technologies | Posted in Life At Sarvika
Hello! It's August 13th, 2023, the day we're writing this blog post. It's also a special milestone – the work anniversary of our first Graphic Designer, Anmol. He has been an integral part of our team for five years, infusing every ounce of artistic allure into our various social media profiles and now, mentoring others with him.
Beyond his work, he's a passionate motorcyclist, loves singing, and admires tons of street food. Let's dive deeper in his journey in conversation with our content writer, Aditya.
Hello Anmol! You've completed five years at Sarvika. How does this feel?
Summing up my experience in just a few words is a challenge given the enriching journey I've had. If I were to choose a single word, it would be – "Fantastic." When I joined, there were 20 Sarvikans, and I brought with me three years of experience in the Advertising industry.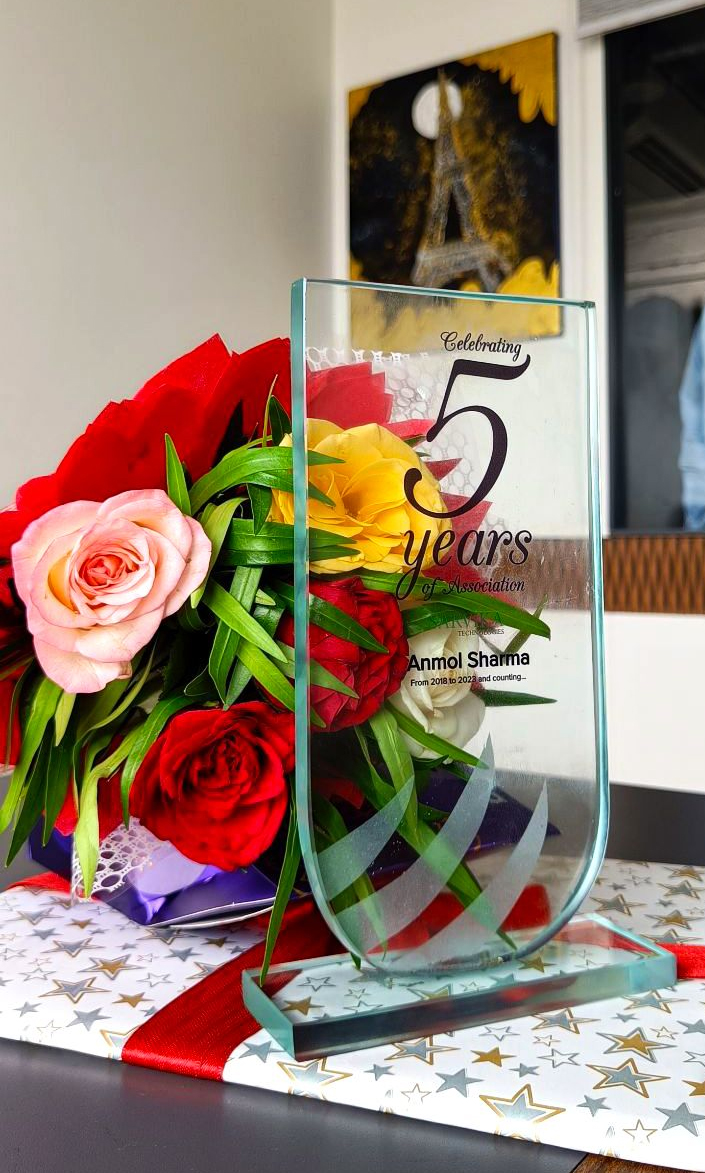 In my association with Sarvika Tech, I have been part of many challenges, opportunities, and diverse avenues for growth, all through my involvement in numerous projects. It is Sarvika's open work culture that makes working there so enjoyable. This culture of support is one of the most significant reasons to stay here and not want to leave.
Could you please tell us about your education and your experience transitioning from Advertising to IT?
Transitioning from Advertising to the tech realm was a unique experience altogether. However, I view it as an advantage. This background allowed me to bring a fresh perspective.
Interestingly, I did study for a Bachelor's in Electronics and Communications initially, but like a diver in a desert, I felt lost and subsequently left it after the first year. It also led me to explore alternative paths, ultimately pursuing a B.Sc.in Mass Communication, Advertising & Journalism. It was during this time that I was first introduced to graphic design, a passion that became my profession and my professional identity
And then, you became a designer eventually. What influenced your decision to pursue it?
While studying, I was introduced to graphic design as one of our subjects. It was coupled with exposure to tools like Adobe Page Maker and QuarkXPress which were used in newspaper layout designing, and somehow it appeared as a field of interest.
I further nurtured this interest through self-learning and by collaborating with fellow enthusiasts engaged in short films and commercials making process. The process of envisioning and creating aesthetic designs resonated deeply with me, leading me to the realization that – I had discovered my calling.
Impressive! Can you share some of your most cherished moments which you'd like to share?
Certainly, there is one.
During the unforgettable Covid phase, when the world grappled with uncertainty and learned a new way of living – Stay home, Stay safe, Sarvika Tech came up with consistent gestures of support, like greeting cards and gifts, which were a reminder that we were united in this struggle.
Amidst healthcare crises and economic downturns, these gestures assured that we as individuals valued an integral part of a large organization like Sarvika.
In your eyes, what should be in the essence of a well-crafted design?
A successful design solves a problem while showcasing aesthetics and conveys a message through minimal elements or clear visuals. Presently, I am using new design tools and technologies, delving further into creating visual content that conveys our message in the best way. There's often a misconception that graphic design is only for those with backgrounds in art, painting, or similar disciplines.
However, my perspective says that this notion is unfounded. With strong analytical skills, emotional intelligence to understand a problem and visualization, you're half way done with solving a problem. Tool proficiency and consistent practice are things with which any individual with artistic interest can forge successful careers in graphic design.
What's your life after log-out?
After work, I am an avid motorcyclist and I love to go for rides for purposes and leisure. On my two wheels, I have covered the Golden Triangle (New Delhi- Jaipur- Agra) multiple times, as well as the Himalayas, which is a rider's paradise. I love to sing.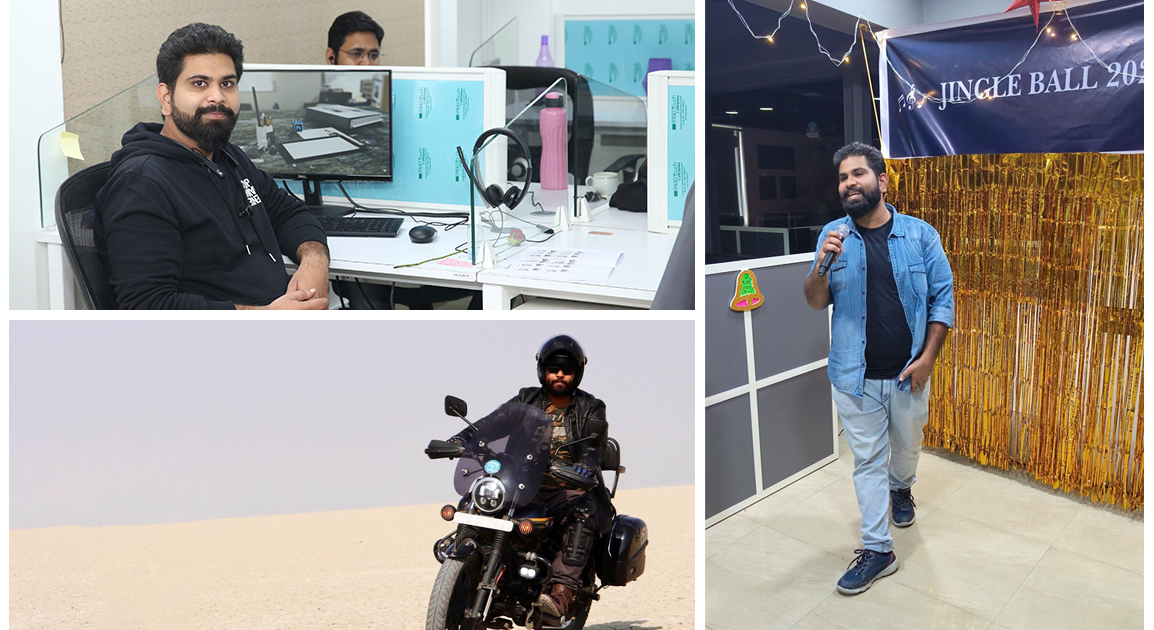 During my school days, I was a lead singer in a band which of course is dismantled now. At Sarvika, I don't hesitate to take the stage for MCing or singing in any of our events. Another cherished aspect of my life is spending time with my two years' old daughter. She is a bundle of joy, and I look forward to our moments together as soon as I go home after the office.
Written by Sarvika Technologies
Sarvika Tech is a team of young, energetic, and technology-loving people on the journey to help companies achieve their goals by supporting their IT needs. In a nutshell, we are a people's company where the priority is their knowledge enhancement and career development. We believe that focusing on our most important asset, the team, will enable us to push boundaries and deliver ingenious IT solutions.