We Implement Rules Through Pranks
July 17, 2019 12:31 pm | by Jyotsana | Posted in Life At Sarvika
Human beings and rules always had a love-hate relationship because we intentionally do something when we are specifically asked not to.
For example, when we were kids, teachers used to scold us for eating lunch during the class hours but still, we would end up finishing the entire tiffin-box. And then later found ourselves standing hands-up outside the class. (Memories, memories!)
But what about the situation when we grow up and become a part of office culture? Unfortunately, it is the same because we have almost nil regard for rules and regulations unless there are some serious consequences. Therefore, many organizations end up implementing harsh policies like salary deductions for any breach in the code of conduct.
At Sarvika Technologies, we believe that our employees are a crucial asset. And our prime concern is their mental well-being so that they are able to work more effectively and efficiently.
However, that doesn't mean we've fallen behind in implementing policies and ensuring its compliance. We found a middle way or the prank way of teaching our dear team members some lessons.
In addition to the usual rules and regulations, we have one special direction for every employee on the floor, which is:
To always lock his/her system while leaving the desk, even when it is for a minute.
Being the creatures of habit, It was obvious for our employees to not follow the rules and then we decided on taking matters into our own hands!
When one of the team members forgot to lock his computer despite numerous reminders, someone did this…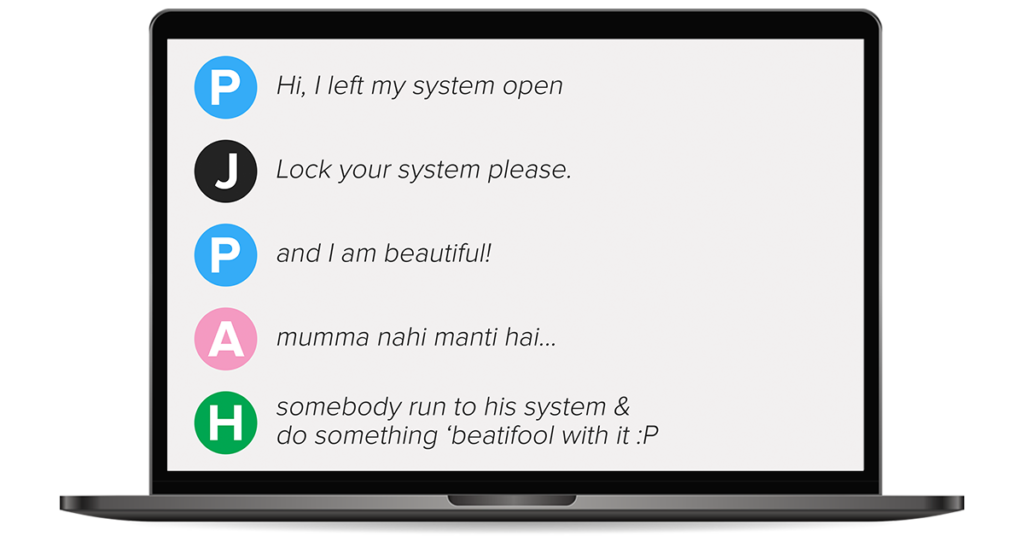 Something similar also happened with another team member when he left his system unattended.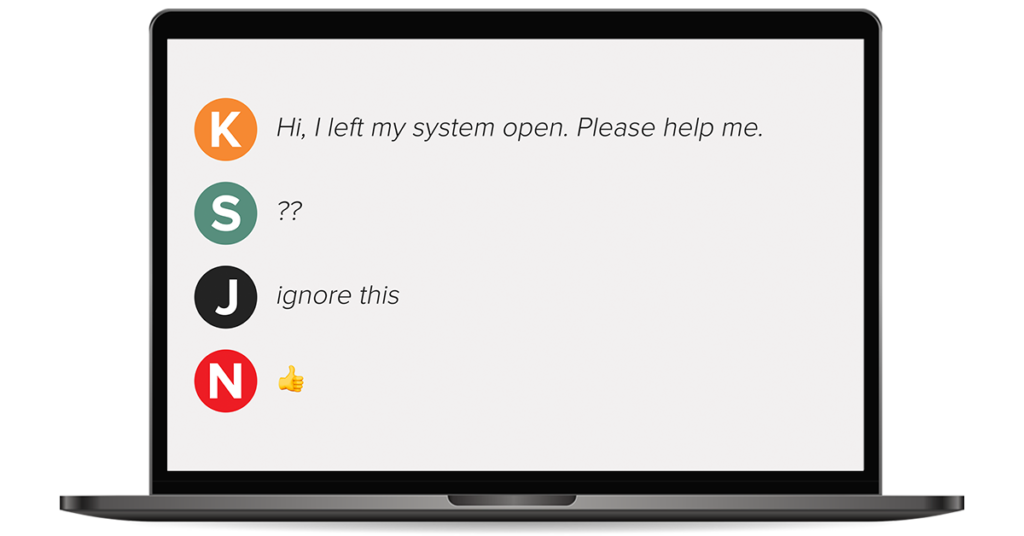 These pranks took place on the Sarvika's team chat group. Imagine calling yourself beautiful on the company's group chat! It surely feels weird, funny, and embarrassing — everything at the same time. And that's how we ensured that in future no one leaves his/her system unattended. Mission Accomplished!
You might be thinking that we are CRAZY. Yes! We are and we take pride in being a big bunch of crazy people who join their hands to deliver the best — be it in implementing office rules or making our clients happy.
Now the question is, do you want to be a part of this family? If yes, then check out our careers page and apply today.
Written by Jyotsana
Manager, Client Solutions
Jyotsana has a wide experience in customer relations in the software industry. She completed her MSc in Business Administration from the University of Amsterdam in year 2018. When not being a super awesome manager, Jyotsana likes to mentor hearing and/or vocally impaired children in a public school in the city. She believes in being kind. Her forever-passion: #saveearth