Seven factors you forget to consider while selecting a payment gateway.
December 8, 2020 5:50 pm | by Jyotsana | Posted in eCommerce
Plenty of people have kickstarted their eCommerce ventures in the wake of a job loss due to the pandemic. In my opinion, that's commendable, building your life again takes a lot of courage. A salute to all such people and this blog is my way of appreciating their positive mindset.
The entire idea of selling online and making money will fall flat on its face if there isn't a secure way to exchange money over the internet. Yes, there is a side-way called COD (cash on delivery), but do you seriously want to touch an object that's been in the hands of countless people? Especially during a pandemic where every time you touch an alien surface, the next step is to use a hand sanitizer.
Hence the need for an  eCommerce payment gateway. Before we get into the details, let us sort out the basics first.
What's a payment gateway?
A payment gateway is a third-party service that connects the bank to the online platform and enables the exchange of funds in a secure environment between two parties. The payment gateway must be authorized by the central bank, should follow the government guidelines, and provide a secure PCI-compliant environment with a unique fraud-detection mechanism for online transactions.
A payment gateway provides the business and its clients with multiple online payment options to choose from, of which credit cards and digital/mobile wallet takes up a huge chunk followed by others like debit card, bank transfer, etc.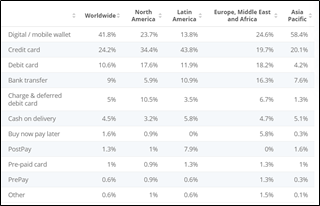 Share of different payment methods in total eCommerce transaction volume worldwide in 2019.
Source: Statista
What factors should you take into consideration before integrating a payment gateway?
Control over the user experience.
It is undoubtedly the most relevant constituent to consider before choosing a payment gateway option. There are three popular payment gateway options available in the market, namely: hosted, self-hosted, and non-hosted.
A hosted payment gateway

will take away the customer from your eCommerce portal to the payment merchant's page to complete the process. Once the customer has filled in the relevant information, they will be directed back to your website.

A self-hosted payment gateway

keeps the user at your page, collects their financial information, and shares it ahead with the payment gateway URL to execute the transaction.

A non-hosted payment gateway

empowers you to control the complete checkout and payment process. Customers provide their complete payment details at the checkout page and the payment is processed using APIs/HTTP queries.
The latter two provide you with more control over the customer experience as compared to the first. But at the same time, the complete onus for data security falls on you in case of a non-hosted payment gateway, because the entire payment process takes place on your website.
The type of payment portal.
As discussed above, the three payment gateway options have their pros and cons. A hosted gateway is more secure as compared to a non-hosted gateway, but you lose control over the consumer experience. Also, hosted and self-hosted payment gateways are less expensive to set up as compared to non-hosted because the security aspect is handled by the payment portal and not by you.
Charges by the payment portal.
Portals charge fees based on the number of transactions or one fixed monthly or yearly amount. Other than general transaction fees, there are other payments like the initial setup fee, the premium membership fee, etc., which change from one payment portal to another. Choose the portal based on your budget and expected sales revenue; don't rush before researching well, as transaction fees can eat your profit.
Does the portal support international transactions?
You must have a vision of where you want to see your business after a few years. If you are planning to sell to international markets, then opting for a payment gateway that supports international currency exchange is a must. These portals will take into consideration exchange rates and fluctuations and handle other necessary prerequisites to ensure seamless payment processing.
A variety of payment options is a must.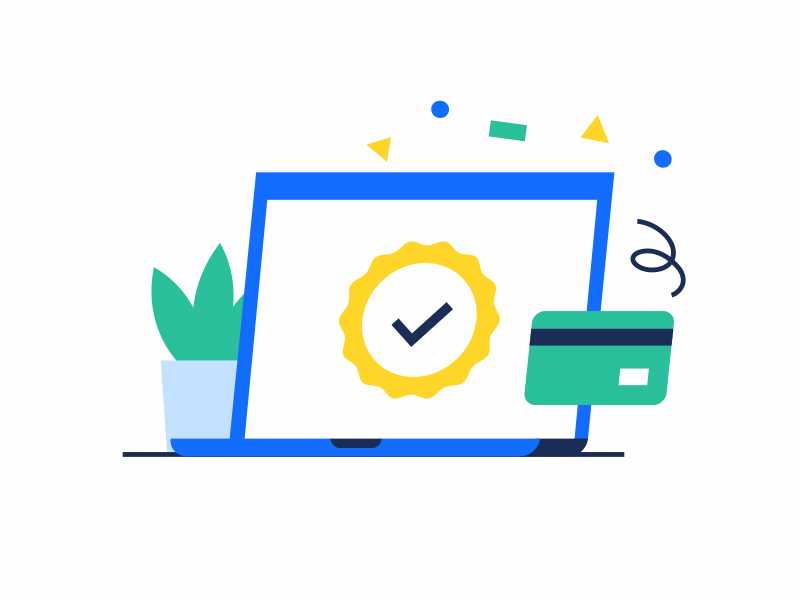 To date, there are payment gateways that do not support mobile payment options like digital wallets. It can dampen the customer experience as mobile shopping is gradually taking over traditional desktop/laptop browsing. Customers expect a smooth shopping experience, and cheating them of digital wallet payment option may portray a negative brand image.
Does the portal support recurring billing?
If you're selling a service online, like tuition, then the recurring billing feature is your concern. Instead of asking money from customers every month, this feature saves their payment information and renews charges automatically at the end of the contract period (with their permission, of course) until customers stop it manually.
Good customer support, need of the hour.
Good customer support is a must, and I'd recommend choosing a payment gateway that offers on-call assistance and not just relies on a chatbot, at least during standard working hours in a week. If there is 24×7 support, then there is nothing more like it.
Where there is a will, there is a way.
The pandemic affected the people in the worst manner possible; lives, jobs, economy, social life – all at once. I genuinely wish that your online business becomes successful and helps you get your life back on track.
At Sarvika Tech, helping society is always our priority and if that's possible by sharing information about the eCommerce domain, then we're all in! Subscribe to our monthly newsletter to stay informed about all the latest blogs and opinions from our experts. To know more, or discuss any idea, please reach us via the contact page.
Written by Jyotsana
Manager, Client Solutions
Jyotsana has a wide experience in customer relations in the software industry. She completed her MSc in Business Administration from the University of Amsterdam in year 2018. When not being a super awesome manager, Jyotsana likes to mentor hearing and/or vocally impaired children in a public school in the city. She believes in being kind. Her forever-passion: #saveearth