What led this extrovert techie to become a Business Analyst at Sarvika? Usha Vaswani #PeopleofSarvika
April 28, 2023 8:46 am | by Sarvika Technologies | Posted in Life At Sarvika
Welcome to another edition of #PeopleofSarvika. Through this medium, we have one-on-one conversations with Sarvikans and get to know them beyond their work in the office.
This time, we are in conversation with Usha Vaswani, a Senior Business Analyst who started her professional journey with us and has been working for more than three (3) years with us.
Usha holds a B.Tech in Computer Science to her name and is one of the key members of our CSR committee.
Tell us a little about yourself and how you got interested in technology.
As a seasoned Senior Business Analyst at Sarvika Tech, I have been entrusted with the responsibility of managing one of the premier clients that have been associated with us since its beginning years.
Hailing from Bikaner, a tier III city in Rajasthan, India, my childhood was surrounded by computers and literature in the form of books and novels, which eventually developed into an obsession with technology and communication.
I remember my first computer that my father brought when I was in grade 8 and the amount of time I spent beside it, which never seemed to pass my curiosity. I believe that this was a resounding call that I did not hesitate to answer when I completed my schooling and elected to pursue a Bachelor's degree in Computer Science.
When I was in college, I took advantage of the time between semester breaks, vacations, and any opportunity to explore programming languages, Android app development, and Python – a buzzword of that time.
Seems like you were progressing towards becoming a developer. Then, how did becoming a Business Analyst come into the picture?
It may seem that my inclination was towards becoming a developer, which is a path that most people tend to pursue.
However, despite my fascination with technology and my programming knowledge, I realized that I did not relish the idea of sitting for long hours behind a computer screen, which is a common prerequisite for developers. Additionally, my extrovert nature did not align with the solitary nature of a developer's job, which usually involves less interaction with people.
Therefore, after consulting with my friends, I explored other career options that would enable me to utilize my technical skills while also leveraging my passion for communication. This is how I stumbled upon the role of a Business Analyst, a term that was not in my vocabulary until then.
After conducting extensive research, I discovered that this designation was the perfect fit for me, as it enabled me to use my technical expertise and communicate effectively with people, thus creating a lucrative and satisfying career for myself.
What motivated your decision to apply to Sarvika?
Oh, words cannot express the myriad of thoughts that raced through my mind when I commenced my job hunt after completing my studies. It is a phase that every aspiring professional experiences, with a plethora of expectations for their first professional start in the workforce. I was searching for an establishment where I could be guided by seasoned veterans in the field of my chosen career.
Sarvika Tech emerged as the quintessential destination where I could realize my goals and build my professional network. From the onset, I was treated with a high degree of esteem that put me at ease and had no boundaries towards learning.
What was your interview experience like?
During my interview process, I had the pleasure of conversing with Jyotsana, the current Vice President of Client Solutions at Sarvika Tech. To my pleasant surprise, the interview proceeded seamlessly, akin to a heart-to-heart dialogue.
I was able to share my expectations, aspirations, and how I envisioned shaping my career as a Business Analyst, a profession in which I had minimal experience. Jyotsana demonstrated a genuine interest in learning about my future plans, and professional growth, and was thoroughly engaged throughout the interview, that seemed like chatting with a trusted confidant.
COVID-19 broke out just after you started at Sarvika. How was your experience during the lockdown period while pursuing your role as a Business Analyst?
Within the next few weeks of my joining, where most of my time was spent in training and development sessions. The pandemic's onset compelled everyone to work from home. During this time, I grappled with the challenge of learning and adapting to my new role while geographically separated from my colleagues.
Fortunately, my mentors encouraged me to practice documenting queries, which allowed me to gain a deeper understanding of projects and clients. Since the very first day, I have been honing this skill, and I vividly recall sending lengthy and detailed queries to JR over text when she was stranded in the US during the pandemic.
Regardless of the time difference and geographic distance between us, she responded to every query, no matter how trivial, which enabled me to learn and grow at an accelerated pace.
Therefore, I believe that this challenging phase brought out the best in me. My unbridled curiosity towards learning during the ten-month-long lockdown provided me with greater opportunities to acquire knowledge and skills. When you have colleagues who are invested in your growth and development, skills become a byproduct
As a Senior Business Analyst, what do you believe is the cornerstone of a fulfilling career?
As someone who began as a newbie in this field and now possesses close to four years of experience, my journey has been nothing short of fantastic. Although I have made mistakes along the way, each misstep has been a valuable learning experience that has enabled me to become a better version of myself.
I am aware that not every day is perfect, but if you are committed to growing and learning from your mistakes, you can fulfill any role you desire.
Who is Usha beyond her designation?
As a gourmet enthusiast, you can say I can be seen talking with my friends about the food and newly opened cafes and places in Jaipur that serve delectable dishes. My love of food knows no bounds, whether it's trying out different recipes or exploring street food gems to exquisite high-end dining experiences.
When I am not indulging in my love of food, I can often be found traveling with my friends and discovering the natural beauty and cultural richness of new places.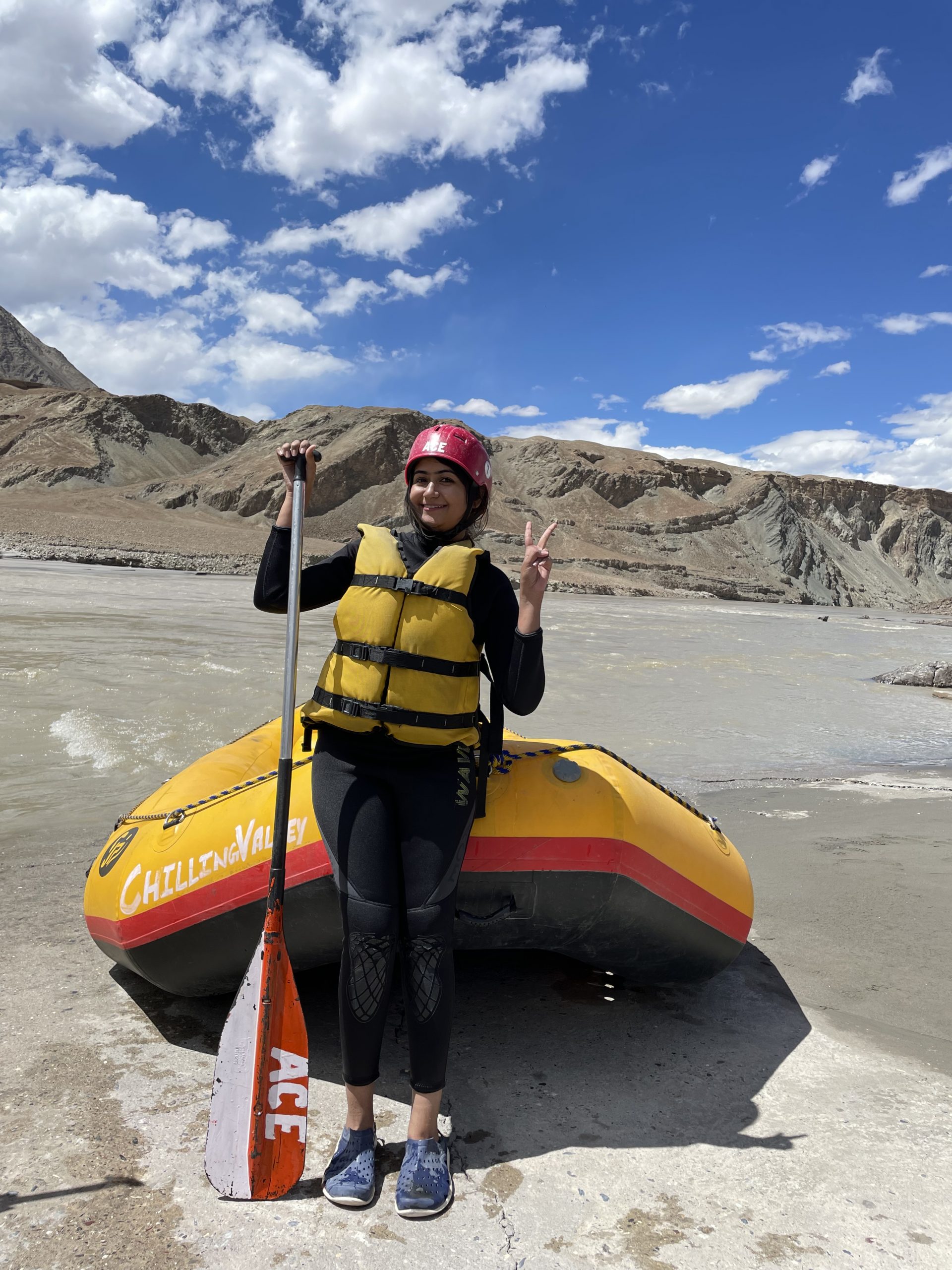 Apart from your core role as a Business Analyst, what else are you involved in?
Apart from my core responsibilities, I am an active participant in Sarvika Tech's Corporate Social Responsibility (CSR) committee, where we unite to address environmental and social concerns. Together, we endeavor to raise living standards for people, the environment, and society as a whole.
Our CSR initiatives have garnered widespread support from altruistic individuals eager to make a positive impact on the world. Through a diverse array of projects, including those that promote ecological sustainability, we strive to leave a lasting, beneficial legacy in our community.
Prior to joining the CSR team, I contributed to the Open House committee (an AMA of Sarvika), which facilitated cross-functional communication and collaboration between individuals at different management levels through a series of inclusive and transparent forums.
What advice would you give to newcomers to our organization?
The experience I gained at Sarvika Tech makes me a mentor for newly recruited employees, ready to embark on the same journey I started 3.5 years ago. It is gratifying to be in a position where I can share my knowledge and assist my colleagues in clarifying their doubts.
I always encourage those around me to take ownership of their assigned tasks and view guidance and suggestions as opportunities for growth and advancement.
Written by Sarvika Technologies
Sarvika Tech is a team of young, energetic, and technology-loving people on the journey to help companies achieve their goals by supporting their IT needs. In a nutshell, we are a people's company where the priority is their knowledge enhancement and career development. We believe that focusing on our most important asset, the team, will enable us to push boundaries and deliver ingenious IT solutions.